 asana at home

WE BRING ONLINE YOGA VIDEOS AND CLASSES TO WHEREVER YOU ARE
Online Yoga Videos – Asana at Home was created to help expand the yoga community into the homes and spaces of those who aren't always able to make it into a yoga studio. Asana at Home hopes to make the yoga experience more accessible and flexible to reflect the diversity of the different circumstances we all face. 
By bringing together yoga students and teachers from all over the globe, we hope to create a community that has common values, passion, and purpose. Our teachers fuel their passion with high-quality classes and workshops through our virtual yoga studio platform. 
Great Online Yoga Videos in the comfort of your home
For any of our Online Yoga Video classes, all you need is some space to move, a yoga mat, if you have one (a towel also works), and Zoom account, which is free to set up.
If practicing in a louder space, you may want to use headphones to hear the instructor better.
Thank you for practicing with Asana at Home. We're glad you are here.
Have Questions? Check out our FAQ PAGE 
FEATURED Online Yoga INSTRUCTORS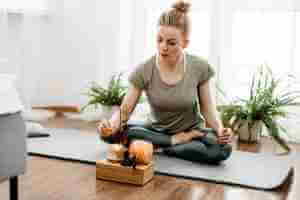 For years whenever I did yoga, I tried to copy what everyone else in the class was doing—their form, what they wore, and what they brought to class. Proper (expensive!) yoga pants – check. An official yoga mat – check. I'm embarrassed to admit that I even did these things in the privacy of my own home