WITH BERNIE CLARK & NATHALIE KEILLER
This is a recorded online meditation course that will examine what meditation is, why we do it and how to do it from various viewpoints: From Eastern Yogic and Buddhist views to Western Philosophy and Psychotherapy. In addition, the course includes training in Deep Meditation to give the student an experiential basis for the practice of meditation. Students are expected to meditate twice daily during the training and hopefully after that.
Knowing why meditation works and the range of benefits we can receive from meditation helps to motivate us to establish and keep a regular daily practice. Understanding the obstacles that may arise during the training will allow us to be more vigilant and take things as they come. This course will balance theory and praxis, helping you establish a solid meditation practice. The system will also delve deeply into the context of both yoga and meditation. What do "yoga" and "meditation" mean, and why would we want to do them. Understanding the historical context of these practices will help you adapt and adopt meditation to what you need for our modern times.
The online meditation course is open to all students regardless of whether they have never meditated before or already have a regular practice, even if it is not in the Deep Meditation tradition. However, we do request that everyone, even experienced meditators, use the Deep Meditation technique for the duration of the course so that everyone can share in the everyday experience. You will learn various styles of meditation; however, we will only practice this one style of deep meditation.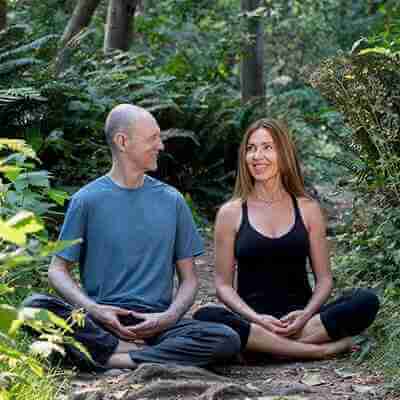 This online meditation course is considered to be the second level of the Yin Yoga Teacher Training (YYTT) offered by Bernie Clark.
The final section of the YYTT was the Mind/Body, but it was only an introduction to the topic. Meditation Revealed is a deeper dive into the relationship of the mind to the body, uncovering what we mean by mind, the practices of mindfulness and meditation.
Remember, each Yin Yoga posture is an opportunity to develop mindfulness. And, for all yoga students and teachers, Meditation Revealed will put the styles of yoga into their historical and philosophical contexts. In others words, there will be a lot more stories!
Online Meditation Course HOURS OF INSTRUCTION
THE 40-HOUR ONLINE MEDITATION REVEALED COURSE INCLUDES:
35 Hours of instruction by Bernie Clark and Nathalie Keiller through video recordings
5 Hours of self-study and practice
Instruction in Deep Meditation
A taste of some other styles of meditation
A historical overview of meditation and yoga
Understanding the role of meditation in various styles of yoga
The differences in the intention of different styles of yoga and meditation
The anatomy of the mind and soul: Eastern, Western and historical views
The benefits of meditation – physically, psychologically and spiritually
Creating sacred spaces and the time to meditate
Dealing with obstacles
The importance of praxis
Permanent access to the video recordings
A digital manual containing the presentation material and a list of resources/references
A certificate of completion
40 Hours YACEP with Yoga alliance
Online Meditation Course FREQUENTLY ASKED QUESTIONS