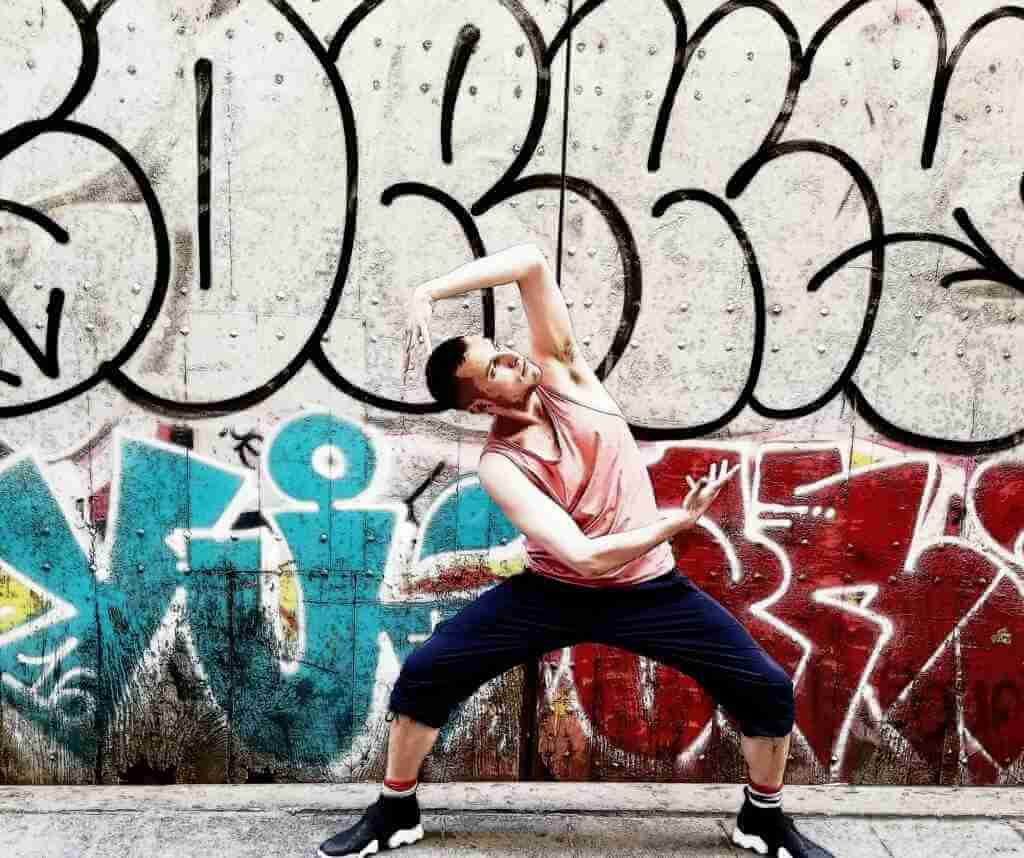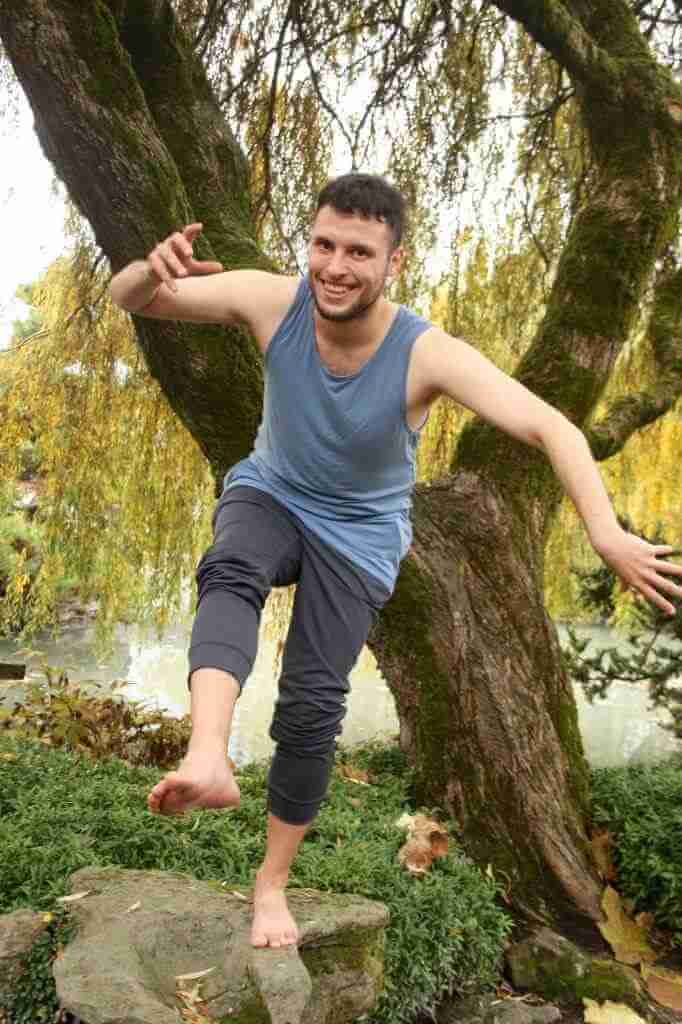 NamasGay everyone! Welcome to my page, I'm Hiiro Zaké Sigal Prince :).

My first exposure to Yoga practice came in the form of my LGBTQ youth group here in Vancouver BC and it was led by no other than Sean Haleen! Sean now lives in the USA however he was a volunteer at the youth group and provided us a class in a community center which is where I first experienced the practice. I made the decision to go to the class because I was always curious to learn about myself as a whole in a different way than before and the opportunity to learn from a fellow gay Jewish yogi made it accessible for me to feel safe and inclusive in the environment as well.

The invitation and self-inquiry of Yoga as a practice and lifestyle is one that I find has something for absolutely any and everybody that is seeking a closer connection to their truest 'Self.' Yoga will meet YOU where you ARE and support you unconditionally as long as you allow it to happen whichever way it presents itself and I'm referring to the after-effects of a practice. Yoga embeds itself within you far beyond the corners of the mat or surface you practice on, it's part of every breath you take and each step you imprint.

Yoga provides me the self-awareness and humility that I am always a work in progress and there's a never-ending craving for future development in myself as a whole. It gives me a community of real humans that are on a similar path that is signature to their journey and therefore the intersectionality that occurs between us all always leaves opportunity for collaboration and innovation. Yoga reminds me I am needed daily to show up as my best self and take the seat of a teacher for those students that I am privileged to present to and be accountable to them as well as myself. Yoga has and continues to supply me a career path that's life long and proof that you can do what you love and love what you do in a sustainable and ethical manner.

Yoga takes the root of me and reflects it back in order for me to always stay present with each passing moment. It requires me to listen to what truly is important in my life and how I can do that for others as my own teacher, mentor, and student. My favourite yoga style(s) are all things related to the realm of gentle therapeutics and non-asana oriented approaches that pertain to a gentler Hatha, yin, and restorative framework. I love the use of many props and tools ranging from massage balls, wood dowels, bolsters, straps and blocks, etc. as an added layer to weave a physiotherapeutic and kinaesthetic experience to the practice. It was therapeutic/active restorative practices that truly rescued my health and prompted me to begin the path to obtaining my first yoga teaching certifications and I integrate these concepts in all my classes regardless if it's a more yang natured or yin oriented offering. I tend to lead less from the physical and more from the energetics while ensuring safety and alignment in my classes to ensure the safety and security of all bodies and people.
It takes one some time to be open-minded and humble in order to discover their preferred style(s) of yoga practice whether it's more asana (physical) based or less physical and more meditative and philosophically oriented. I had a yin: yang practice balancing fiery power vinyasa complemented by therapeutic restorative and then landed firmly into Hatha lineage once I suffered extreme injuries which I still live with today and have sustained through the softer and slower oriented styles I primarily teach as a result. I'm passionate about teaching the practices of yoga because it is a constant invitation to empower others to nurture, restore and explore their true identities while also establishing communities of like-minded people who are able to go onward and pay it forward. The nonstop self-studying of the way I show up and present my self in society is a reflection of the yoga practices and therefore always keeps me passionate about returning to the self-work. Although my own personal practice on the mat fluctuates monthly, the practices as a living yoga practitioner are what I embrace as much as I can through the yamas and niyamas and then the asana comes and goes.
As I mentioned above, my teacher training began through learning about yoga therapeutics and restorative lineage which I completed 40hr prior to embarking on my primary 200hr program. I then continued onward and finished my 200hr vinyasa training with Mike Nichols between October 2012 – March 2013 and was already teaching classes during this time to get my skills rolling. In short, I further educated myself through obtaining modules in kids yoga, yin yoga, advanced yoga anatomy, additional restorative, phoenix rising yoga therapy, 500-hour certification, indoor cycling, hot yoga, pilates mat certification, an additional 200hr certification, and most recently crystal bowls and jikiden reiki. The interdisciplinary fusion of these has amounted to 1200hrs of education and has allowed me to integrate them in all my classes be it more yin or more yang based.
Some of the most noteworthy qualities that still make an impact on me in my past teachers or mentors would have to be the amount of sincerity and genuine care they had for the practice. The way they showed up for me and gave me the opportunities to develop myself and showcase what I have as a person was a gift. Their inclusivity and fierce acceptance of me and my unconventional, authentic and individual nature provided me the steps to build my followings and security in my own worth and teachings to pass onto my students that followed. Lastly, they embodied the entirety of what yoga is and were no different either on or off their mats, they lived and breathed their own truth and always encouraged me to do nothing less.
I don't remember who quoted this but I resonate with this one: "Always be your Self, everyone else is taken"
NamasGay and Yours Queerly,See you on the other side ;).
xOm xOm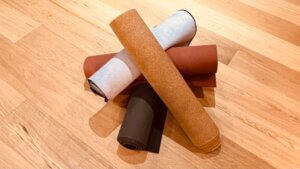 I created this guide to help you navigate the intricate details of the yoga mat size chart, unveiling the nuances of length, width, and thickness
Nerve gliding exercises are gentle stretches or movements designed to relieve nerve tension, provide pain relief, and improve mobility in the affected area. These gentle
Butterfly Yoga Pose, also known as Baddha Konasana or Bound Angle Pose, is a rejuvenating and versatile yoga posture with numerous physical and mental benefits